Education
Discover resources, curatorial research, and more. Last updated 4.21.23
Curator Resources
Learn more about the exhibition catalogue's guest contributor and where to read more of his work: Khalil Gibran Muhammad, Ford Foundation Professor of History, Race and Public Policy at Harvard Kennedy School
Learn more about the work of some of the Rising Sun curators:

Dejáy Duckett
Vice President of Curatorial Services, African American Museum in Philadelphia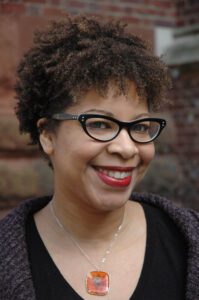 Dejáy B. Duckett is the Vice President of Curatorial Services at the African American Museum in Philadelphia (AAMP). Over the last four years at AAMP, she has organized 16 exhibitions including Collective Conscious; Cotton: The Soft Dangerous Beauty of the Past; Sonya Clark: Self Evident, Portals and Revelations: Recent work by Richard Watson; and Rising Sun: Artists in an Uncertain America Formerly, she was Associate Curator at The University of Pennsylvania's Arthur Ross Gallery where for 15 years she curated projects including Henrique Oliveira: Adencalcinoma Poliresidual and Darkwater Revival: After Terry Adkins. Duckett earned her B.A. in Art History from Spelman College in 1994, and an M.A. in Museum Studies from Seton Hall University in 2001, where she researched the evolving role of the culturally specific museum in the 21st Century. In 2019, Duckett was awarded the Distinguished Alumna Award from the College of Communication and Arts at Seton Hall University.
Dejáy can be seen in:
Judith Tannenbaum
Project Curator, The Pennsylvania Academy of the Fine Arts
Judith has edited or contributed essays in numerous other art catalogs. Highlights to check out include:

Michael K. Wilson
Rising Sun Curatorial Fellow, African American Museum in Philadelphia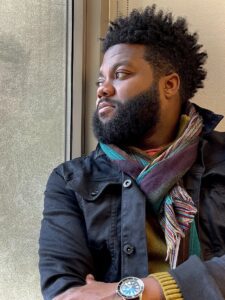 Michael Wilson is currently a Ph.D. candidate in the Department of Africology and African American Studies at Temple University. His research interests revolve around the relationship between ancestral memory, memorialization, and counter-archival practices throughout the African diaspora, particularly among artists of Caribbean descent. Michael has a strong interest in using the museum space and curatorial practices to merge his disciplinary background of Black Studies and Art History. He is currently a Curatorial Fellow at the African American Museum in Philadelphia in addition to previously being a Fulbright Fellow and two-time Nelson Mandela Museum Fellow recipient. His publication contributions include the edited volume New Frontiers in the Study of the Global African Diaspora by Michigan State University Press and the monogram "Visible Man: Fahamu Pecou".