Reckoning & Repair
The Art That's Touched Philadelphia
A Center for Experimental Ethnography Production
Students from the University of Pennsylvania produced a podcast to deepen engagement with questions of reckoning and repair in contemporary US society, and specifically in the practice of making responsive art, exhibiting it, and responding to social calls through collection practices.
Each episode is a deep dive into an artistic practice related to the themes of the exhibition, several featuring interviews with artists and members of the Rising Sun exhibition team.
Subscribe on Audible, Spotify, and other major podcast networks.
Recorded, written, and produced as part of the "Contemporary Artists in Conversation: Reckoning and Repair" course taught by Alissa Jordan in the spring of 2022 at the Center for Experimental Ethnography (CEE) at the University of Pennsylvania.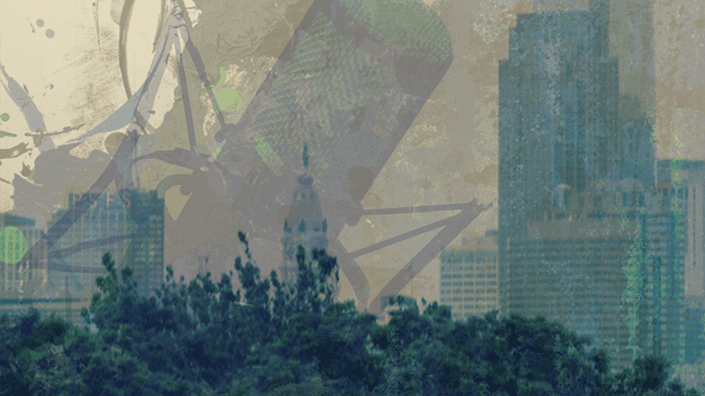 About ANTH 397/597: Contemporary Artists in Conversation: Reckoning and Repair
Spring 2022, Instructor: Alissa Jordan, CEE Associate Director 
In this project-based learning course, students developed skills in interviewing, oral history, and podcast production by hosting a series of conversations with contemporary artists, curators, and community organizations who are part of Rising Sun: Artists and an Uncertain America, as well as others engaged with its themes.  
Over the course of the class, students treated contemporary art as a method of scholarship complementary to ethnography, and gained hands-on, real-world experience in developing collaborative, ethical, and engaged work at the frontier of ethnography and art.  
The central goal of the course was for students to develop an understanding of artistic practice in conversation with anthropology, using the themes of reckoning and repair—How do contemporary artists and community organizations confront the troubling canonical history of the United States?  How can art practice speak to (and enact) re-appraisal, reformation, reckoning, and repair during critical social moments (such as those we find ourselves in now)?   
About the Center for Experimental Ethnography
The Center for Experimental Ethnography at the University of Pennsylvania was founded in 2018 to promote multi-modal research practices as both method and theory, integral dimensions of scholarly research.  Directed by Deborah A. Thomas (John L. Jackson, Jr., Co-Director), we are a group of faculty across eight of Penn's twelve schools who facilitate and support multi-modal research practices among undergraduates, graduate students, faculty, and our partners within the City of Philadelphia and beyond.  We coordinate scholarship, research, and public partnerships related to multi-modal work practices; consolidate those activities in which we (and our students) are already engaged; and grow these generative connections by hosting Visiting Scholars, coordinating workshops and conferences, supporting multi-modal project based courses, facilitating visual, sonic, and performative undergraduate and graduate research projects, producing rigorous criteria for assessing those projects, engaging with arts and community-based institutions throughout Philadelphia, and forging connections with other like-minded institutions worldwide.  We see creative practice as intellectual work that necessarily historicizes the inequalities that pervade our society, and that develops solutions for their present iterations through collaborative and participatory practice.  We believe that multi-modal research practices transform how we conduct research, how we generate and disseminate knowledge, how we train students, and how we remain accountable to the communities in which we interact and through which our research circulates.