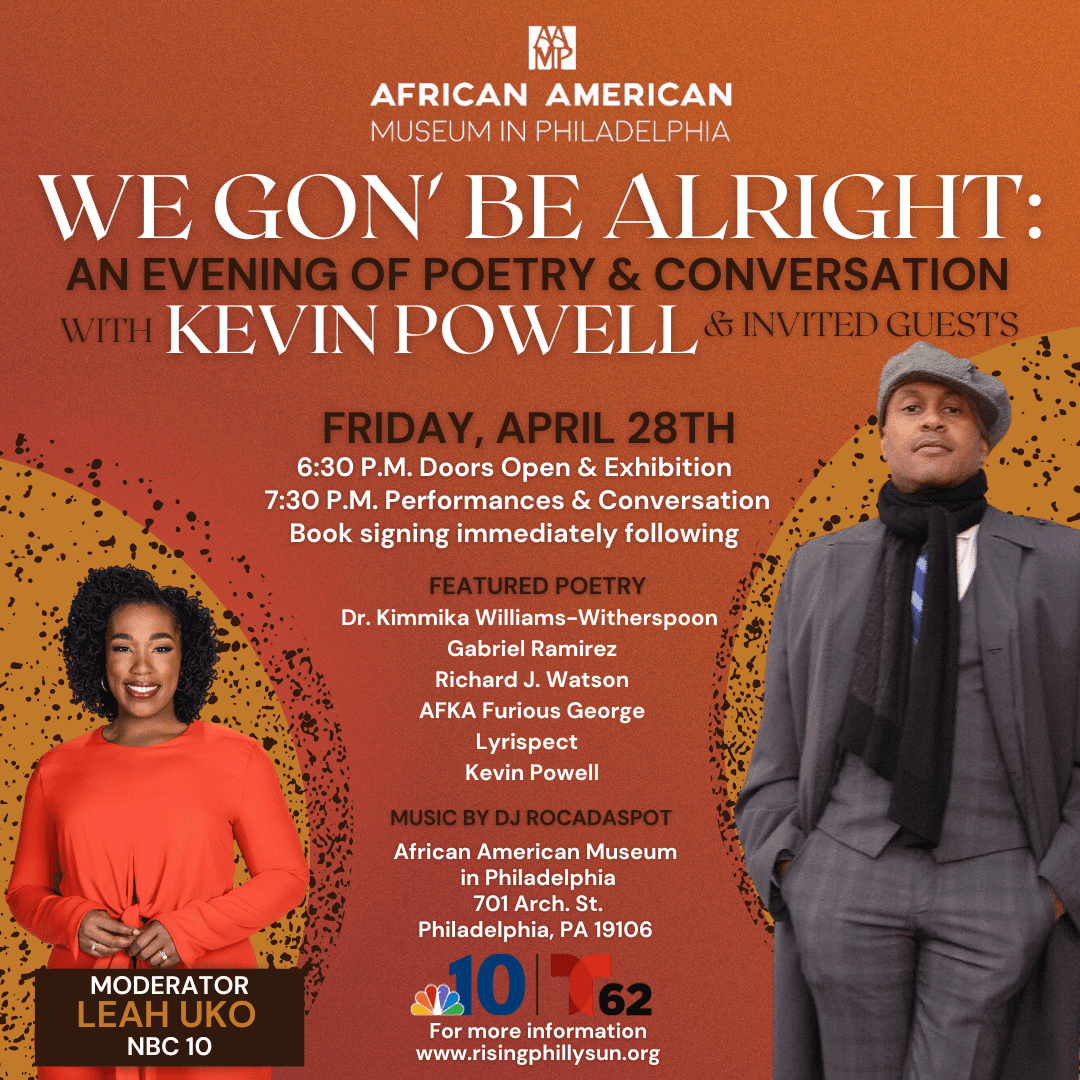 Visit AAMP for a very special evening with poet human & civil rights activist, and filmmaker, Kevin Powell who will be joined by a powerful lineup of inclusive poetic voices: Dr. Kimmika Williams-Witherspoon, Gabriel Ramirez, Richard J. Watson, AFKA Furious George, and Lyrispect. After each poet sounds off, Kevin will be joined by NBC 10's Leah Uko, who will moderate a conversation unpacking the content of his newest books and how we move towards being "alright" in an Uncertain America. Book Signing to follow immediately in the museum's lobby. This event is suggested for an audience of 16+ and is FREE and Open to the public. Space is limited and pre-registration is strongly encouraged.
Date
Friday, April 28, 2023
Time
6:30 pm – 9:30 pm (doors open at 6:30 pm for exhibition viewing, program starts at 7:30 pm)
Venue
African American Museum in Philadelphia
Price
Free & Open to the Public
Kevin Powell is one of the most acclaimed political, cultural, literary and hip-hop voices in America today. Kevin is a native of Jersey City, raised by a single mother in extreme poverty, but managed to study at Rutgers University in New Brunswick thanks to New Jersey's Educational Opportunity Fund. Kevin has gone on to be the author of 12 books, including his newest title, The Education of Kevin Powell: A Boy's Journey into Manhood. It is a critically acclaimed and brutally honest memoir about his life, including his youth. In 2018, he will publish a biography of Tupac Shakur, the late rapper and controversial American icon. Kevin's writings have also appeared in CNN.com, Esquire, Ebony, The Huffington Post, The Washington Post, Rolling Stone, The Guardian, ESPN.com and Vibe Magazine, where he worked for many years as a senior writer, interviewing such diverse public figures as Tupac Shakur and General Colin Powell.