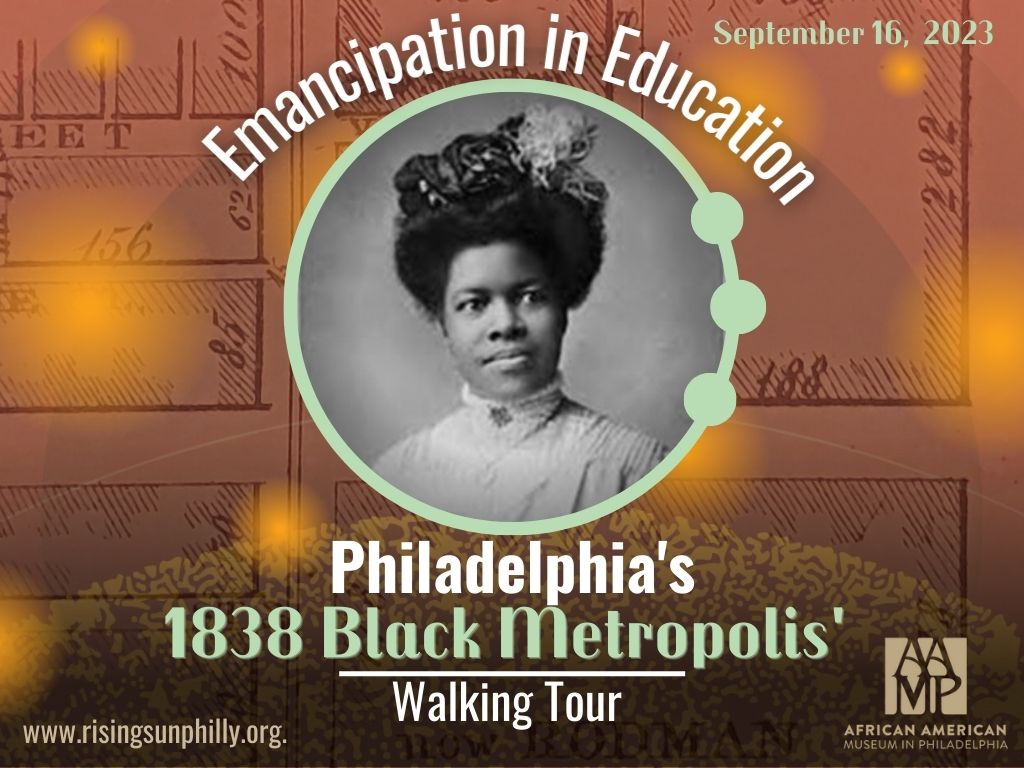 Ready for some Summer fun? Lace up your sneakers, pack a bottle of water, grab your notebook, and join AAMP as we host the immersive 1838 Black Metropolis' Philadelphia mile-walking tour. The nonprofit is offering four custom routes with themes complementing our new exhibition, Rising Sun: Artists in an Uncertain America. The title of the walking tour emerged from the Pennsylvania Abolition Societies' 1838 Black Census, reveals a thriving metropolis of almost 19,000 free Black Philadelphians nearly 200 years ago.
The Movement
The 1838 Black Metropolis Public Education Non-profit was co-founded by AAMP's Program Coordinator Morgan Lloyd and Senior Docent Michiko Quinones and is based on the 1838 Census of the Free Black community. Receiving high reviews from the Philadelphia Sunday Sun, Grid Magazine, and numerous institutions, including the University of Pennsylvania, the movement has traveled across the country through programmatic offerings, including walking tours, workshops, classroom activations, and talks, most recently debuting at the 2022 Association for African American life (ASALH) Conference in Montgomery, Alabama, The Historical Society of Pennsylvania, and Carpenter's Hall.
Find out more at: https://www.1838blackmetropolis.com/ 
Date
Saturday, September 16, 2023
Time
1:00 pm – 2:30 pm
Venue
African American Museum in Philadelphia
Price
$30 General Admission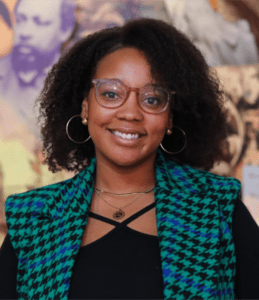 Morgan Lloyd
Co-Founder of the 1838 Black Metropolis Public Education Non-profit
Morgan T. Lloyd is a Public Historian, Educator, Artist, and Curator based in Philadelphia. Lloyd has held fellowships with institutions, including Montclair University, the Studio Museum in Harlem, and the Philadelphia Museum of Art, in areas of interpretation, curation, journalism, and programming. She holds certificates from Harvard University, The Smithsonian Institution, and the National Museum of the American Indian. She has provided lectures to institutions, including UPenn's Graduate Museum Certificate Program, the Will and Jada Smith Foundation, and the Association for the Study of African-American History and Life Conference (ASALH). Lloyd is also an educational advisor and reoccurring guest educator for the Agnes Irwin Upper School for the History, Social Sciences, and English departments.
As a curator and artist, Lloyd has exhibited at El Museo del Barrio, Tyler School of Art, and Space 1026. In February 2023, she was honored as a 'Black Hero in Health Equity' by the University of Pennsylvania's Pair Center. Most recently, Lloyd joined the board of The Muse Collaborative based in Camden, New Jersey, and served as a Lead Judge for National History Day at the National Constitution Center.
As Programming Coordinator at the African American Museum in Philadelphia, she manages the museum's volunteer guide program while cutting events highlighting intersectionality within the Black community through holistic conversations and programming.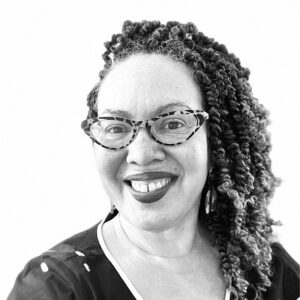 Michiko Quinones
Co-Founder of the 1838 Black Metropolis Public Education Non-profit
Michiko Quinones is a public educator and public historian in Philadelphia. She has been a docent for over a decade at both the African American Museum in Philadelphia and the Rosenbach Museum. She holds a BA in African American Studies/Government from the University of Maryland-College Park and an MS in Conflict Analysis and Resolution from George Mason University. She is nearing completing an ALM (MA) in Museum Studies from Harvard University. Her true love and focus of the study is the Black community of the antebellum in Philadelphia. In this vein, she has been resurfacing the achievements of this community through various formats; walking tours, online exhibitions, blogs, papers, lesson plans, conference presentations, and public talks. She is the co-founder of the 1838 Black Metropolis public education non-profit, co-founder of the Black Docents Collective, and co-host of the Philly People Now Deceased Podcast, which surfaces untold biographies of Philadelphians. Her love of Philadelphia extends to photography, where she takes pictures of the architecture of Philadelphia on her phillyphotos.art website.