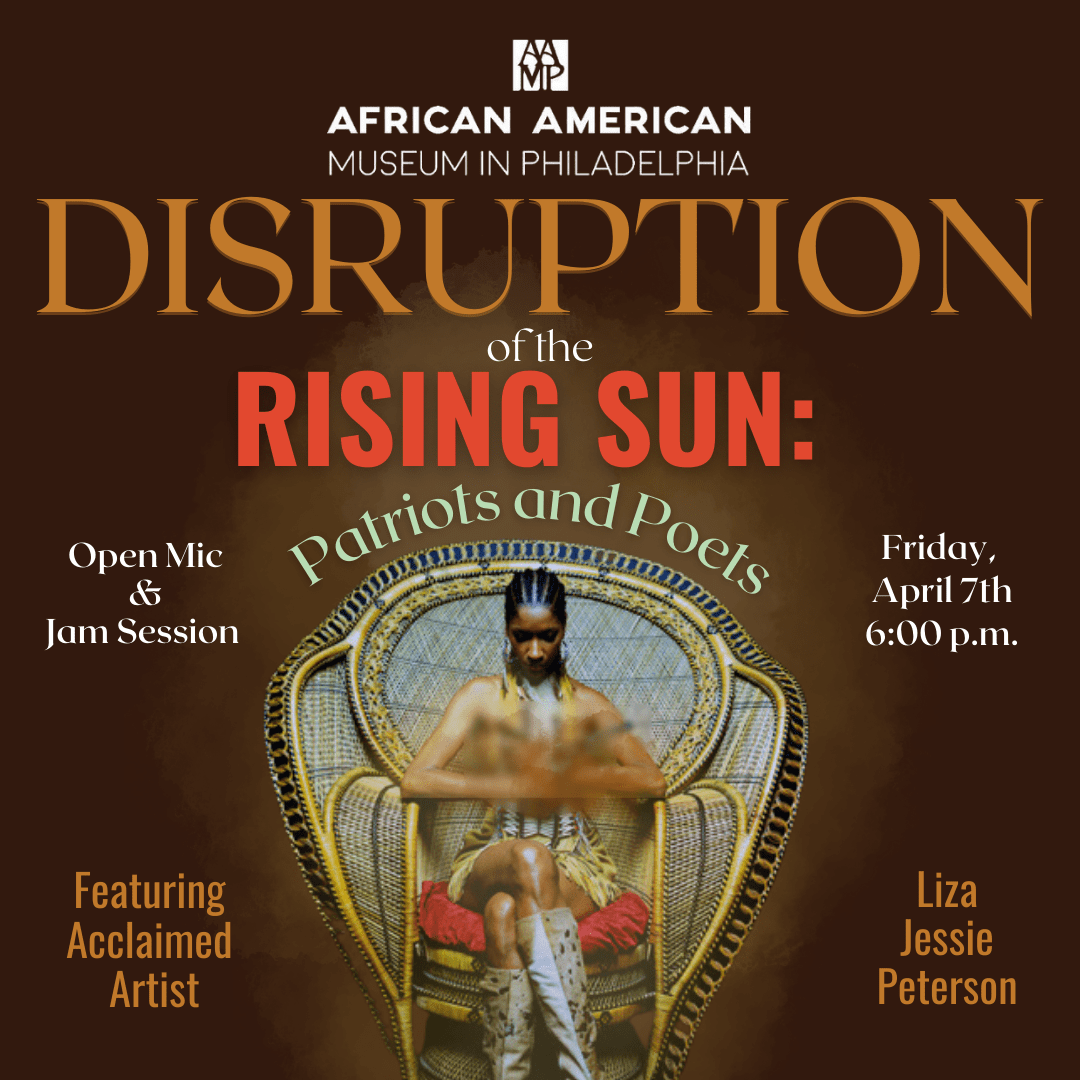 Open Mic & Jam Session
Disruption of the Rising Sun is a multiple-part poetry series where citizens, writers, musicians, and lyricists take center stage for our OPEN MIC, with featured performances by respected artists whose work aligns with the pervasive themes found in "Rising Sun: Artists in an Uncertain America". The series will take place at both AAMP and PAFA and will be hosted by multiple award-winning creative, LYRISPECT.
This month's feature is artist/activist, poet and playwright, LIZA JESSIE PETERSON, whose unforgettable body of work has been featured from Spike Lee's Bamboozled to Def Poetry Jam and Ava DuVernay's 13th. Her critically acclaimed one woman show, "The Peculiar Patriot", was nominated for a Drama Desk Award and was featured at the 2020 Democratic National Convention.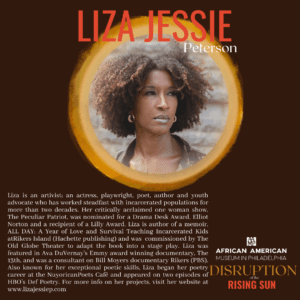 The launch of this exhibition-specific performance series starts at the top of National Poetry Month and falls on a First Friday, where museumgoers also get exclusive extended after-hours access to the new exhibition at AAMP featuring original and commissioned works by:
DREAD SCOTT
LA VAUGHN BELLE
JOHN AKOMFRAH
RENÉE STOUT
MARK THOMAS GIBSON
DEBORAH WILLIS
MARTHA JACKSON JARVIS
DEMETRIUS OLIVER
HANK WILLIS THOMAS
Disruption Series
"Disruption" is a curated and thematic intergenerational open mic and showcase featuring powerful performances by emerging and established writers, artists, and musicians along the East Coast and beyond! Thought-provoking readings from live audience members are interspersed throughout the night.
Date
Friday, April 7, 2023
Time
6:00 pm – 9:00 pm (Performances begin at 7 pm)
Venue
African American Museum in Philadelphia
Price
$19 General Admission